Southampton and the area
Casa Sol's Location is Ideal
It is a short walk down a quiet lane to the beach and boardwalk that can be safely negotiated by even young children – no busy street to cross.
The cottage is a 5 minute walk from High Street, the main street in town, and a 15 minute walk from the Dunes and Gerry's Fries, both local attractions that will have you returning again and again! The tennis club, with courts in 3 locations in Southampton, is also within walking distance, as is the museum, art gallery and school, library, bakery, bicycle rentals, hospital and number of restaurants and grocers.
To see where we are located click for map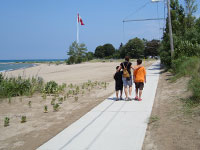 Fun at the Beach
The beach is quiet, unspoiled, wide and sandy, and open to the public. It offers a safe gradual entry into the lovely clear water of Lake Huron. The waves can get exciting some days! The boardwalk is lined with family-donated benches conveniently placed for resting, sunset viewing and star gazing. The beach has a plenty of play structures for the younger ones to take a break from frolicking in the sand and surf.
The Town of Southampton is a Jewel
Historic, well-preserved and vibrant, Southampton has maintained its character with an authentic small town feel. It has an active volunteer force, the 'Propeller Club', working on many town improvements and operating the Chantry Island Lighthouse tour. High Street is the town's 'main drag'. It is a wide, slow street with slant parking and pedestrian-friendly sidewalks.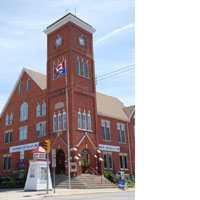 Southampton Has Something for Everyone
Attractions in and near Southampton are almost too numerous to list. There is plenty to do whether you want an active, athletic vacation with plenty of new sights and experiences, or a more sedate and relaxed respite.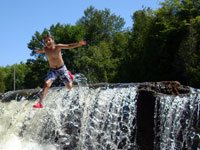 Chantry Island Lighthouse and Bird Sanctuary –
A Favourite
Tours run several times daily, depending on the migration and nesting season. Engaging volunteers lead tours of the lighthouse keeper's home and the lighthouse. www.chantryisland.com
The Southampton Art School & Gallery Shop
A multi-media art gallery and summer art school. The Gallery Shop showcases the fine hand-crafted work of over 50 regional artists and artisans, including paintings; pottery; photography; jewellery; textiles; wood carvings; ironwork and folk art. It is located in the historic former Southampton Town Hall. Classes are held in the Town Hall and other sites, as well as on location. www.theartschool.org
Bruce County Museum and Cultural Centre
The Museum is large and airy, with excellent exhibits covering thousands of years of natural and human history, Bruce County artifacts and history, demonstrations, special exhibits, a theatre and a number of special lectures and presentations throughout the year - www.brucemuseum.ca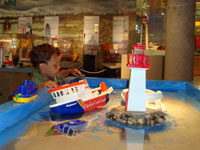 Keady Market
Great fun for everyone, includes a livestock market, farmer's market and flea market. 250 vendors selling a wide variety of produce ranging from Niagara peaches to deli meats, home baking, crafts and an eclectic assortment of other goods. www.keadylivestock.com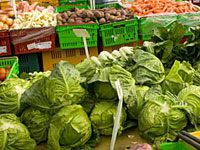 The Southampton Tennis Club
The Club offers a full range of programs on 15 courts at 3 locations in Southampton. Membership is affordable and comes in welcoming combinations (for a week, a month, or the entire season as an adult, a junior, or as a family) and includes weekday junior and adult group lessons (no reservations or pre-booking for these lessons is required).
Members can also satisfy their competitive urges in social round robins convened weekly. A great social and playing tradition is the weekday "bench" at the Lake Street courts: simply show up and place your racquet in line on the courtside benches and when a court becomes available after a set of tennis, you and the next three players on the bench can have your turn at doubles. All levels welcome. Phone: 519-797-2445.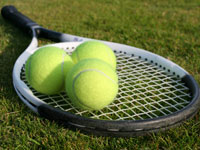 Southampton Market
A large indoor market housed in a rambling former furniture factory, stocking everything under the sun. Think Honest Ed's on the Bruce Peninsula. www.southamptonmarket.com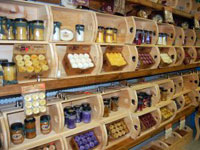 Thorncrest Outfitters
Outdoor adventure centre for canoe, kayak, bicycle, hiking, birding and winter pursuits. The store stocks quality outdoor clothing and all of the gear you will need for your adventure including new, used and rental. Rent a kayak and paddle to Chantry Island. They also offer a variety of trips such as canoe and kayak trips on the Saugeen and Rankin Rivers and open water paddling on Georgian Bay and Lake Huron. www.thorncrestoutfitters.com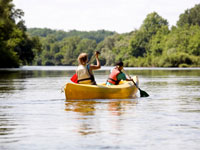 The Bruce Trails Network
There is an incredible network of trails with designated uses, from wheelchair-accessible, to cross-country, to hiking, to equestrian, to ATV and everything in between. For the trails closest to Casa Sol, go to the link, then go to "Trails" and then check out the Southampton, Sauble Beach and MacGregor Point Park trails. trails.brucecounty.on.ca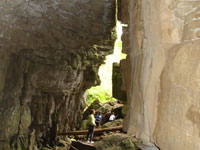 The "Rail Trail"
The Saugeen Rail Trail is part of a former railway line going from Port Elgin to Southampton. This rail bed is now used for cycling, hiking or walking. In winter it's also ideal for cross country skiing and snowshoeing. There is an abundance of wildlife, including raccoons, hawks, robins, and bluebirds. Best of all – no motorized vehicles allowed! saugeenrailtrail.ca
Bring Your Golf Clubs!
Saugeen Golf Club
Stately tree-lined fairways and bunkers of sparkling white sand. 27 spectacular holes. Practice facility. www.saugeengolf.com
Southampton Golf and Country Club
18 holes, quiet rolling fairways and flawless greens, only a 5 minute drive from Casa Sol. www.southamptongolf.ca
The Club at Westlinks
A variety of interesting and challenging contoured greens and green complexes. www.theclubatwestlinks.com
South Port Golf Club
Scenic 9-hole layout. www.southportgolf.ca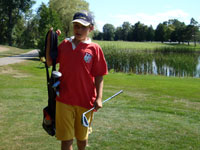 Sample Itinerary for a Week at Casa Sol
Here are some suggestions to jumpstart your plans for your week at Casa Sol:
| | |
| --- | --- |
| Saturday | Settle in. Go for a stroll along the boardwalk into town to browse the shops, pick up some provisions for the week, and dinner at Duffy's. |
| Sunday | Beach in the morning. No agenda today, just decompressing. Lunch from Gerry's Fries – it won't be the last time! In the evening, walk or drive up to the Fairy Lake bandshell for live music. Bring folding chairs. |
| Monday | Walk up to the Bruce County Museum for a day at the museum. On the way home, stop at the Elk and Finch for a rejuvenating coffee and treat. If there's time, head down to the beach. Dinner at the historic Walker House. |
| Tuesday | Keady Farmer's market in the morning. Pick up some produce and baking for dinner. Hit the Art Gallery, then spend the rest of the afternoon at the Dunes. Dinner at home. |
| Wednesday | In the morning, drive along the beautiful shore road to the Port Elgin flea market. Check out the town of Port Elgin and its beach. Maybe return in the evening for a movie or bowling. |
| Thursday | Chantry Island Lighthouse tour (book in advance) during the day. Evening is 'Cruiser Night' at the foot of High Street – an incredible array of vintage cars and trucks. |
| Friday | Drive to Sauble Falls, beautiful natural stepped falls at the site of an old mill. Picnic beside the Falls. Double back into the town of Sauble Beach and get a taste of a true summer town, totally tacky and fun. Casual dinner at the Two Chicks, eat and people watch on the grounds in front of the restaurant. Hurry home to the flag about a half hour before the sun sets and listen to the bagpipe pipe the sunset. |
| Saturday | Time to pack up, tidy up and enjoy some last quiet moments on the deck. |